Denis Lamothe of Ciné Lune Inc sees a lot of action. Based in Montreal, Quebec, this sought-after Gaffer has lit nearly 100 films and series. He often finds himself working on fast paced scripted projects like the dramatic crime series Victor Lessard, and numerous features with director/writer Xavier Dolan including The Death and Life of John F. Donovan, It's only the End of the World, and Mommy. This year he worked on Kuessipan that is currently in post-production, Playmobile the Movie and the latest Dolan film, Matthias & Maxime.
"The SNAPGRID concentrates the light and keeps it in the right direction"
His lighting fixture choices range from Cream Source, to Skypanel S60 to Rosco's DMG Lumière SL1, 3×3 DP Lumi and SUMOlight.
For every fixture, he owns DoPchoice Snapbags and Snapgrids (he calls louvers) to control and direct the illumination precisely as cinematographer André Turpin wants it. For a large soft source, to go with most of his LEDs Lamothe throws an 18K Arrimax in a 12×12 magic cloth and for more control a 12×12 egg crate grid. Often he puts a Snapgrid right onto the Snapbag saving a stand and space. Other times it's a combo effort. "The Snapgrid concentrates the light and keeps it in the right direction. After that, if we want it even softer, we can add another DoPchoice louver and diffusion on a 4×4 frame with a C-stand in front of the light."
With features, television series and a sprinkling of commercials thrown in, Lamothe needs gear that travels well, sets up fast and does the job right. It's great that he discovered DoPchoice to make the most of his top LED lights. He explains, "In the movie industry, we have an expression: Your team is as strong as its weakest link. This expression also applies to equipment. I work with DoPchoice because I know that when I take them out of the bag, even after all these years, I have a first-rate working tool.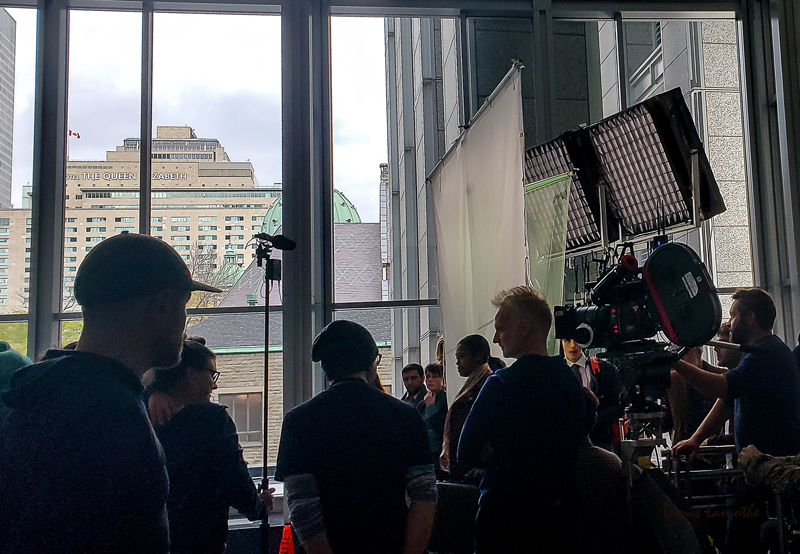 Two 3×3 DP Lumi fixtures with Snapgrid on the front, taken on location in Montreal for the film Matthias & Maxime.